Untainted by tourism, there is much to be discovered on Cat Island.
The island is boot-shaped, only 48 miles long and four miles across at the widest part. It is the sixth largest island of The Bahamas and is located about 300 miles away from Miami or 120 miles SE from Nassau. With a population of only 1,678 people, there are literally miles and miles of virtually undisturbed beaches, where swimming and relaxing can be done in near complete privacy.
There are many historic Bahamas attractions you will want to visit during your stay here.
Originally the island was inhabited by Arawak Indians. The Arawak Indians, also called Lucayans, migrated to the islands from the Amazon region of South America. The Lucayans were prosperous and plentiful, with an estimated population of around 40,000 by the late 15th century. They were known for the gentle ways and historic caves, they might have been the first people to welcome Columbus to the New World. They left behind The Arawak Caves, found at Columbus point, one of the many historic Bahamas attractions to visit.
Cat Island was then ruled by pirates in the 1700's. With its high hills, the ships and masts could be anchored and hidden from view, making it a perfect hiding spot. Many visitors to the island enjoy the old pirate fort on land, and a 200-year old shipwreck at sea, both of which are popular Bahamas attraction for island explorers.
The island was once home to one of the more prosperous Loyalist colonies of the Out Islands. It gained its wealth from the numerous cotton plantations established during the 1700's. 
Members of the Armbrister family were given vast tracts of land, a reward for their loyalty to the British Crown. They built cotton plantations and lavish houses, of which you can still see, the ruins. The Armbrister plantation ruins are a well-known Bahamas attraction. You can visit the remains of the plantation, near Port Howe.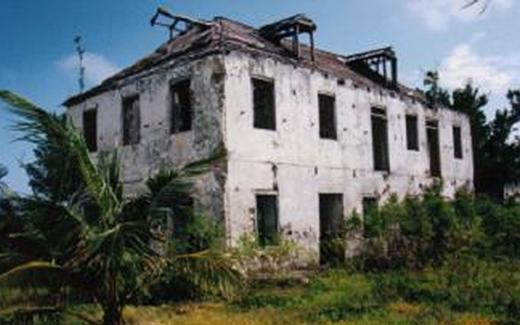 Another popular Bahamas attraction and one of the most visited settlements on the island is near Port Howe; named after Admiral James Howe, the first English commander during the American Revolution.  The village was built by Colonel Deveaux , who recaptured Nassau from Spain in 1783.
The island is also the home of Sidney Poitier, the internationally acclaimed Bahamian actor who spent his boyhood days at Arthur's Town. The settlement at Arthur Town is another Bahamas attractions to explore when you stay on Cat Island.
Other historic Bahamas attractions you can visit include Mount Alvernia, "The Hermitage,"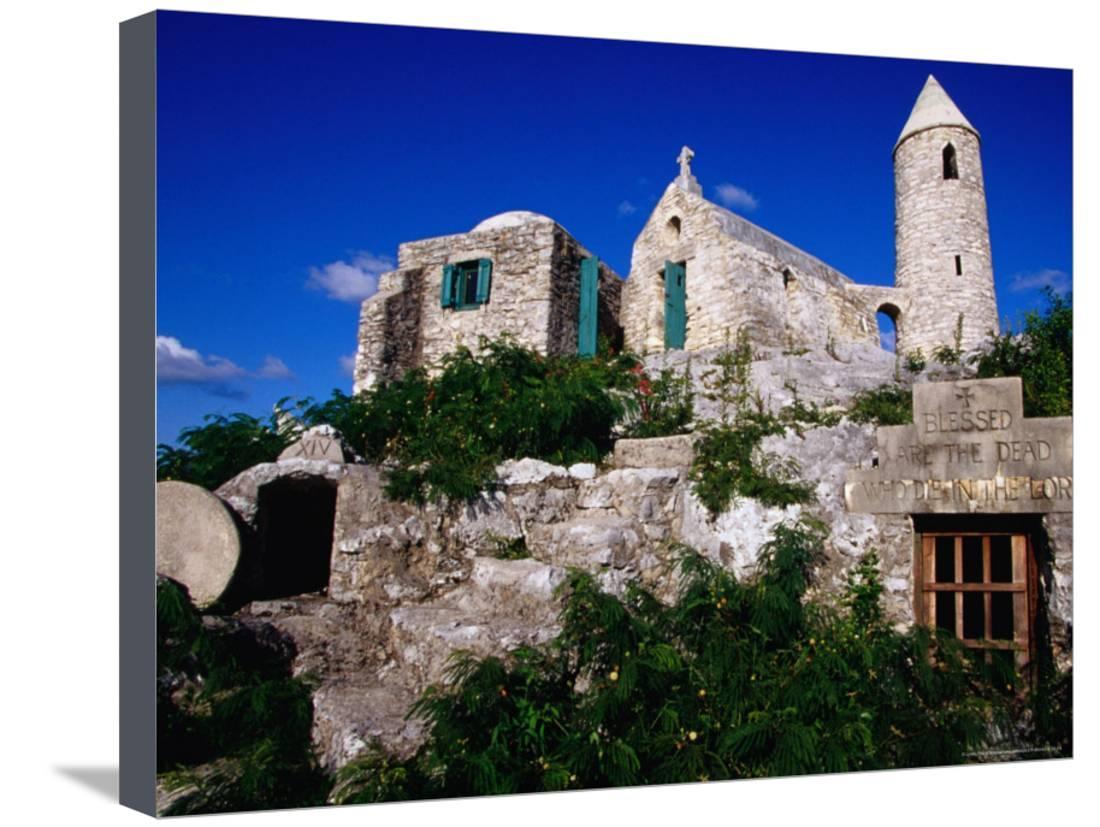 and the Saint Francis of Assissi Catholic Church.
The island is still virtually unspoiled by modernization on a whole and is covered with churches offering some very interesting architecture. Monsignor John Hawkes designed four himself, two of which are said to be his finest works.
One of his churches called "The Hermitage" is located on Mount Alvernia the highest point in all the Bahamas Islands. This is one of the top Bahamas attractions sightseers must not miss. The Monastery sits atop the cliff named Comer Hill at about 206 feet above sea level. The purpose of the church was to become a sanctuary for meditation.
Many visitors find the island's culture makes for a unique Bahamas attraction.
You won't find any of the modern Bahamas attractions on Cat Island. Despite other islands in Bahamas, here there are no casinos or golf courses, not even a bank. As a form of payment shops owners will take cash, checks and credit cards. Local Bahamas food might be of real interest to visitors because it is influenced by many cultures from South America, Britain, Africa and Spain. Delicious dishes made by seafood and tomato sauce, native fruits are combined with rum and served in cocktails or desserts, an last but not least the Bahamian Kalik-Beer, Rum-Mix drinks, Bahama Mama and Goombay Smash.
Cat Island, Bahamas is part of a marine territory of about 100,000 square miles and encompasses almost 5% of the world's coral reefs. Which is home to a huge population of whales and dolphins.
The Bahamas scuba diving varies from shallow, protected reefs that are perfect for some excellent Bahamas snorkeling to dramatic deep coral walls.
Underwater Bahamas attractions include:
First Basin Wall: 100-200ft. Deep-water drop-off facing the Great Bahama Bank.
Blue Hole: 80-100ft. The circular depression leads to a descent along the outer walls,
The Tunnels: 30ft. A popular underwater Bahamas attraction that can be reached from the shore. Explore lavish coral garden with a series of crevices, canyons and fissures
White Hole Reef: Circular depressions in the limestone basin surrounded by coral mounds.
Third Basin Reef: Wall 110-130ft. Nearly vertical drop-off with giant sponges and black coral bushes.
Santa Maria Teresa: 20-30ft. 360-foot Spanish battleship sunk in 1898 during the Spanish American War is a popular Bahamas attraction.
Dry Heads: One of the finest shallow Bahamian reefs. Perfect for a snorkeling day trip.
There are plenty of other shallow and medium depth reefs, miles of walls and a couple of excellent wrecks. Whatever your flavor you will find many of the best underwater Bahamas attractions just offshore.
The seas around the island are abound with fish, craw-fish (Bahamian Lobster), sea turtles, and reefs that offer so much for the visitor to experience. Cat Island is famous for Bahamas fishing, and angling enthusiasts can catch deep-sea fish like: giant tuna, enormous white and blue marlin, barracuda, amber-jack, bone-fish, and tarpon.
So, whether you want a little Bahamas scuba diving, Bahamas snorkeling, Bahamas fishing, or you are just an explorer passing through The Bahamas, you shouldn't miss spending several days in the pleasant and familiar style of Cat Island. Whatever you choose, there's plenty of Bahamas attractions surrounding Cat Island.
Of course, you may choose to do absolutely nothing at all.
SUPPORT YOUR INDEPENDENT FILM COMMUNITY